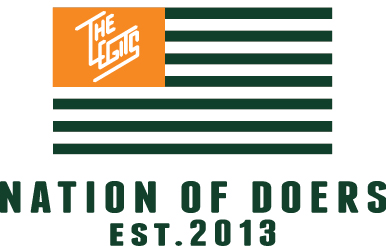 "

If you live your life by thinking about what could be done, but actually never take action, you are just a dreamer. This fall/winter collection is all about pushing your dreams to become your reality.

"
"

NATION OF DOERS


Fall/Winter Collection 2016

"
N.O.D. CAMO JACKET – 77.99€
The highlight of the N.O.D. collection is definitely 100% cotton camo jacket. Super simple and fresh cut with camouflage pattern all across and black hem around the neck are refreshed with four different patches featuring the movement symbols and quotes. Nuff said, you gotta rock it to feel the special vibe. Enjoy the feedback from your homies.
BUY N.O.D. CAMO JACKET:
N.O.D. NYLON JACKET – 61.99€
Yes, we actually decided to have two jackets this season. This one is made out of a waterproof nylon jacket with a big front packet and a nylon hood, topped with the Passion Dictates Action patch. We added two reflective stripes to make it recognizable from far ahead. What else is special about this jacket? Well if it gets hot, just take it off and make a string bag out of it and easily carry it on your back.
BUY N.O.D. NYLON JACKET:
N.O.D. SWEATER – 54.99€
Experience super smooth look with N.O.D. heather grey sweater. 100% cotton with a clean cut and 3D embroidery is framed by the orange/black stitching. The design is topped with the Nation of Doers flag printed under the embroidery. N.O.D. six panel dark green hat perfectly matches the color and style of the sweater.
BUY N.O.D. SWEATER:
N.O.D. TURTLE NECK – 39.99€
Why turtle neck? Well, we just don't want to get a sore throat this winter. What else? Turtle neck simply looks super fresh in black color. Simple white TL embroidery adds on that clean winter look. Regardless if you go snowboarding or just want to hang out in the city, the turtle neck got it all.
BUY N.O.D. TURTLE NECK:
"

Talk is cheap, time to step it up and take some action,
let your passion dictate action.

"
N.O.D. LONG SLEEVE TEE – 39.99€
Time to rock super white and simple long sleeve. One color print on both sleeves with a set of movement's logos on the right sleeve and the collection name on the left sleeve. Clean and small TL logo on the front adds to the simplicity of this fresh long sleeve tee.
BUY N.O.D. LONG SLEEVE TEE:
N.O.D. TEE – 32.99€
Clean and simple look of classic charcoal heather tee, is emphasized with printed quote on the back and simple one color print logo on the front. To add the custom look, we are introducing patches, so you can rock the "Nation of Doers" flag. Do you wanna look even more fresh? Match the tee's dark green color of the back print and patch with the six panel N.O.D. six panel hat.
BUY N.O.D. TEE:
N.O.D. SIX PANEL HAT – 29.99€
Keepin' it simple with the N.O.D. six panel hat. Dark green look with 3D white TL embroidery is just so classic. This hat is made in a color to match any piece from the Nation of Doers collection.
BUY N.O.D. SIX PANEL HAT:
ENTIRE "NATION OF DOERS" COLLECTION SET – 299.99€
Makin' it easier for ya'll. Buy the entire collection and save up.
Entire "Nation of Doers" includes:
1 x N.O.D. Camo Jacket
1 x N.O.D. Nylon Jacket
1 x N.O.D. Sweater
1 x N.O.D. Tutle Neck
1 x N.O.D. Long Sleeve Tee
1 x N.O.D. Tee
1 x N.O.D. Six Panel Hat
If you prefer different sizes of items, please send us an email at info@thelegits.com after your purchase.
BUY THE ENTIRE "NATION OF DOERS" SET:
Gift cards