"

MAKING ACTION TO GET REACTION.
JUST 'CAUSE WE LIVE TO

IMPACT!

"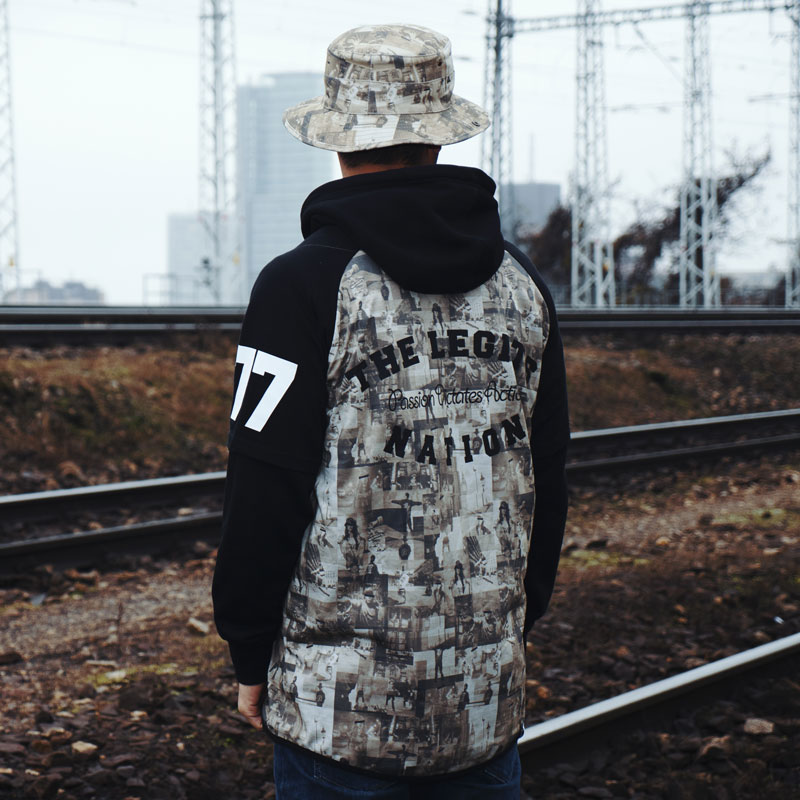 Impact – Winter 2015/16 Collection
We strive to inspire you with all the things that we do. We are here to make an impact on the world and showcase our piece of art for ya'll.

Get a feel of the Impact pattern with the collage of our lifestyle flicks turned into a camouflage. It's time for some snowy and chilly days.

Regardless, time to look fresh…
IMPACT POCKET TEE – 32.99€
Wherever you are, camouflage yourself with the Impact pocket tee. Heather denim blue adds that casual look, mixed with the "hardcore" camouflage, enriched with the pocket for your wallet or keys. Black collar styles it with the overall contrast. Back of the shirt is straight camouflage with the Impact print on. Top your style with the unique Impact snapback, especially made for this tee, or military bucket hat.
BUY IMPACT POCKET TEE:
IMPACT BASEBALL TEE – 51.99€
It's about that time to drop those favorite cuts of baseball tees with buttons. Impact theme both sided, with black sleeves and lucky number 77. Front and back black prints to add extra flavor into the overall look. Time to get all eyes on you at the party or where you rock it. With the bucket hat, this combo is a killer.
BUY IMPACT BASEBALL TEE:
IMPACT HOODIE – 61.99€
Masterpiece of the Impact winter collection. We start with the thick cotton to keep you warm. Adding old school white thick stripe going along the side and top hoodie part. Inside pocket print, is covered with the outside pocket flooded with the Impact theme. To match it all up, inside of the actual hoodie is dominated by the pattern as well. Can't forget about details and small leather patch in the front and white print on the back. Lastly, we added adjustable tighteners on both sleeves to make your wrist comfortable or tight. You can perfectly match the hoodie with either the snapback or the bucket hat. Now, you all set to enjoy that cold…
BUY IMPACT HOODIE:
IMPACT LONG SLEEVE TEE – 39.99€
It's getting cold out there, so enough with the short sleeve tees. This is popular black and camo combo with camouflage sleeves and black body, topped with white print on both front and back. Sleeves are featuring extra side black prints. If you already got your military bucket hat, may as well style it with this long sleeve.
BUY IMPACT LONG SLEEVE TEE:
IMPACT SNAPBACK – 32.99€
This is that hella custom snapback to rule this winter. Denim blue top with leather suede visor matched with the leather patch on the front. Whats under the visor though? Of course , we had to piece up and put in some Impact theme in there. Match your Impact gear with this hat to keep the family together. Adjustable suede leather strap on the back is a must. Time to rock on. Impact time!
BUY IMPACT SNAPBACK:
IMPACT BUCKET HAT – 34.99€
This is definitely a headwear jewel in this collection. Military shaped cut with the Impact theme on both sides and two little holes on each side to let your hair
breathing, topped with the leather adjustable string to give you freedom changing the tightness and style of rocking it. Leather patch provides for that detailed branding. Now, this is that rad look you were looking for.
BUY IMPACT BUCKET HAT:
ENTIRE IMPACT WINTER 2015/16 COLLECTION SET – 249.99€
Makin' it easier for ya'll. For the first time, we are introducing option to buy the entire collection. Now, it's time to make an impact!
Entire Impact Winter 2015/16 Set includes:
1 x Impact Hoodie
1 x Impact Long Sleeve
1 x Impact Baseball Tee
1 x Impact Pocket Tee
1 x Impact Snapback
1 x Impact Bucket Hat
If you prefer different sizes of items, please send us an email at info@thelegits.com after your purchase.
BUY THE ENTIRE IMPACT SET:
Gift cards – just perfect for that holiday season
Make your close ones happy with
IMPACT!